Photos and Review by Rachel Lim, ETA '12-14
City: Daejeon (대전)
Restaurant Name: Buns-n-Stuff
Restaurant address: 412-10 Gung-dong (18 Daehak-ro 137beon-gil), Yuseong-gu, Daejeon / 대전광역시 유성구 궁동 412-10
Directions: From the entrance to the main gate of Chungnam University, walk to your right (when facing the gates and away from the big three way intersection) toward Dasol (다솔) apartment complex. Walk past the apartment complex and another block, then take a left in front of Cafe Sopoong. Another two blocks and you'll see the entrance to the restaurant on your right
Food: American, burgers
Cost: 4,500-6,500 won for a burger; 3,500 won for shakes.
Payment: Cash or credit card
This newer burger joint opened up earlier this year. Located in Gung-dong, Daejeon's university district, Buns-n-Stuff offers a cheaper, but equally delicious, alternative to House Grill.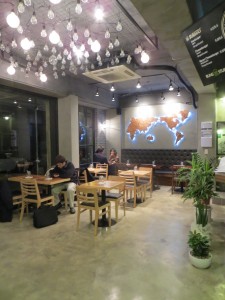 Burgers are simple but customizable. Add raw onions or grilled onions, lettuce or tomato — pickles come with the burger, or on the side. All burgers come topped with a Thousand-Island-esque sauce.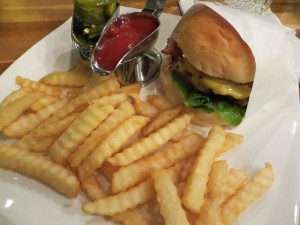 Fries, both plain and sprinkled with cajun spices, as well as onion rings are available for a decent price. My favorite menu items are the milkshakes — frothy, creamy and topped with whipped cream. Of particular note is the Oreo milkshake. Be sure to ask for the whipped cream on top to ensure you get the Oreo cookie.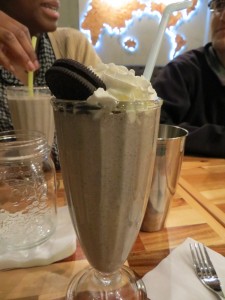 Buns-n-stuff is highly recommended if you are in the university area and are craving a decent burger and a reasonable price.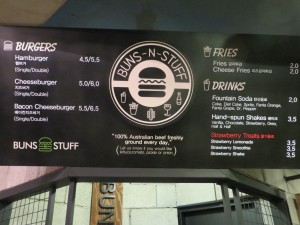 Atmosphere (Out of 5)
4- Small but cozy. For some reason, there is only a women's bathroom in the restaurant. Men must use the bathroom in the adjacent building.
Service (Out of 5)
4- Order at the counter and pay; a server brings the food later. Our cashier was kind and patient.
Food (Out of 5)
4- A delicious, cheap alternative to fast food fare.