Photos by Rachel Lim, ETA '12-14
City: Daejeon (대전)
Restaurant Name: Goong Joong Samgyetang (궁 중 삼계탕)
Restaurant address: 대전광역시 서구 둔산동 1460번지 2층 / 1460 Dunsan-dong (17 Dunsan-ro 137beon-gil), Daejeon, South Korea
Directions: From City Hall subway station, come out exit five and take an immediate right. After two blocks, take a left at the GS 25. You'll see the sign for the entrance (black lettering on a white background) on your left. The restaurant itself is on the second floor.
Food Served: Korean
Payment: Cash or credit card
Price: A bowl of samgyetang is 10,000 won
Samgyetang is a Korean soup dish that consists of a whole, young chicken stuffed with rice and broth flavored with ginseng, garlic, ginger and jujube fruit. Korean people often attribute curative and regenerative properties to a hearty bowl of samgyetang, preferring to eat it on the hottest days of summer. I, however, crave chicken soup when the weather becomes cold, and a good serving of samgyetang is the perfect fix for the winter blues.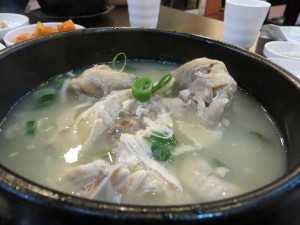 I went to Goong Joong Samgyetang, located in Daejeon's busy new downtown district, with two friends. The restaurant was  clean and spacious, with floor seating as well as regular tables and chairs. We quickly ordered our bowls of samgyetang, and they were served to us nearly instantaneously. The samgyetang came out with a selection of banchan — two types of kimchi and some fresh vegetables, which complemented the steaming chicken. We were also each given little dishes of a salt, pepper and sesame salt mixture to season our chicken with.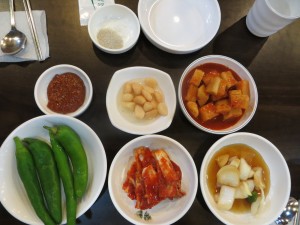 Overall, this was a quick, delicious and easy meal. I recommend this restaurant, especially if you're never tried samgyetang before. It's delicious!
Atmosphere (Out of 5)
4- Clean, with two types of seating available.
Service (Out of 5)
4-Fast, brisk and no-nonsense.
Food (Out of 5)
4- Samgyetang was delicious, and I'll likely be back to try some of their other dishes as well.