Reviewed by Misa Kabashima ETA'10-12
City: Daejeon (대전)
Restaurant name: House Grill Daejeon (하우스 그릴)
Restaurant address: 대전 서구 괴정동 423-4 오렌지타운 119호
Directions: House Grill is located at the back of the Orange Town Building, about 50 meters southeast of Lotte Department Store. Go in the building where you see Paris Baguette and walk straight back. It's a small store with a green light on the right side. You can also take bus 306 and get off at Lotte Department Store (롯데백화점) and it will take you right there. You can also take the subway and get off at Youngmun Station (영문역) Exit 4. Cross the street and you'll see the department store and the Paris Baguette.
Food Served: Burgers and fries
Payment: Cash or credit card
Price: A set meal (burger, fries, and a drink) will cost about 10-12,000 won. Burgers a la carte run about 9,000-12,000 won and fries a la carte run about 3,000 won for plain and 5,000 won for chili cheese. There are Korean dishes as well which are a bit less expensive.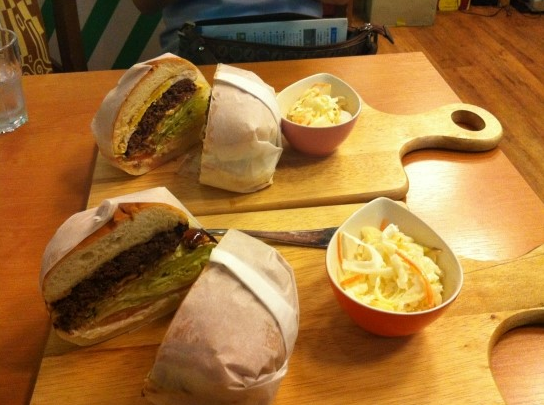 House Grill is a real gem in Daejeon. They make great burgers that won't break your wallet (unlike Kraze Burger). The chef, Brian Kim, spent a lot of time abroad cooking and takes burgers seriously. He's a total food snob, especially when it comes to the chili, which I would recommend. He speaks excellent English and has decorated the place with his own art. The menu will make your head spin with the amazing burger options he's created. Customers can choose from an array of beef or chicken burgers. I'm a big fan of the chili cheese burger and the mozzarella burger. Fries there are seasoned to perfection and the chili cheese fries are not to be ignored. One of the best things about the restaurant is how reasonable the prices are for what you get. Portions are generous and the chef offers a set menu of the burger of your choice plus fries and a drink for a few thousand won less than it would cost to order things a la carte. This place is small so you will almost always have to wait or be grabbing one of the last tables. In true Korean fashion, many of the items on the menu will be "finished" by the time you get there (like the chili) or not ready yet (like the chili… which apparently takes 2-3 hours to make) so have a second choice ready when it's time to order. Also, note that House Grill is closed on Tuesdays, and opens from 11:30 a.m. to 10:00 p.m. the rest of the week.
Atmosphere (Out of 5)
3 – This place is TINY (there're only like 6 or 7 tables) but it's full of character and decorated with magazine clippings and the chef's own art.
Service (Out of 5)
2 – The service is quite slow, but to be fair it's because there's usually only two people working there — the chef and one other waitress. This is not the place for a quick meal.
Food (Out of 5)
4 – It's about as good as a burger and fries can get here.