Reviewed by Jenna Gibson ETA'11-12
City:  Cheonan, Chungcheongnam-do (충청남도, 천안)
Restaurant Name: Mount Fishtail (마운틴 피시텔)
Restaurant Address: 충청남도 천안시 동남구 대흥동 95
Directions: From the east exit of Cheonan Station, turn to the right. You will see multiple walnut cookie (호도과자) shops on your right. Cross the street and Mount Fishtail will be a few doors past the corner on the second floor of the building on your right.
Food Served: A variety of Indian dishes including curry, tandoori and naan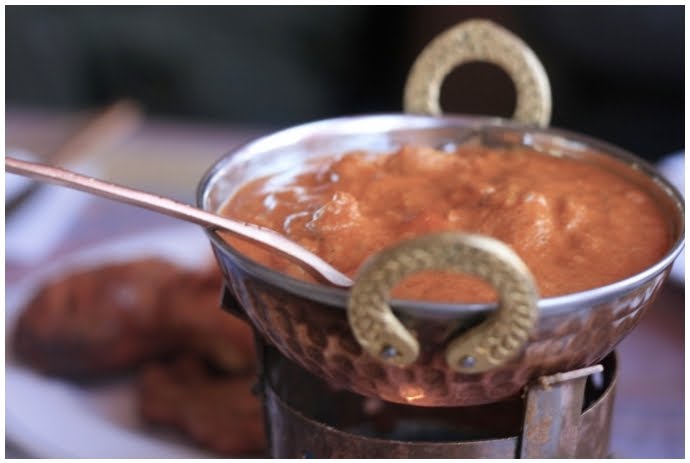 Convenience, service and taste — Mount Fishtail has it all. Located just a block from Cheonan Station, this Indian restaurant rivals curry houses in the States.
Mount Fishtail's take on my go-to Indian dish, chicken vindaloo, was seasoned quite well. But on a subsequent visit to the restaurant, asking the waiter to extra spice kicked the flavor up to a whole new level.
While any of the curry dishes will be enough to satisfy, don't pass up on the side dishes. The samosas — a meat-filled pastry with a flaky bread crust — were decent. They weren't bad, but nothing to write home about. They did, however, come with excellent dipping sauce. And while the restaurant didn't have a huge selection of naan like some Indian places in the States, the garlic or butter naan are, without doubt, solid choices. Do be sure to order rice if you want some, as it doesn't automatically come with your meal.
The restaurant is small, but rarely overcrowded. Service is prompt and the waiters are polite and well-versed in English. While a bit more expensive than the average Korean restaurant, the prices are comparable to Indian food back home. For lunch I usually spend about 15,000 won total.
Atmosphere (Out of 5)
4 – Nice and clean, comfortable booths and a TV playing non-stop Bollywood in the background.
Service (Out of 5)
4.5 – I've never had any problems with service – the waiters are polite and speak English well. Food takes a bit longer than many Korean restaurants, but not long enough to be a problem.
Food (Out of 5)
4 – I've had better Indian food, but for the price this is very good. Highly recommended.