Photos and Review by Ashley Park, ETA '12-14
City: Daegu (대구)
Restaurant Name: Geumgok Samgyetang (금곡삼계탕)
Food Served: Korean-style chicken soup, rotisserie chicken
Restaurant address: 대구광역시 중구 공평동 46-5 / 46-5 Gongpyeong-dong Jung-gu Daegu
Directions: By city bus, get off at the 2.28 Park bus stop. Walk past the Lotte Cinema, straight through the Angel-in-us and Holly's Coffee intersection. You should see an ABC Mart on your left. The restaurant is a little further down on your right. Also accessible from the Banwoldang and Jungangro subway stations.
Cost: 12,000 won for a bowl of samgyetang.
Nested at the heart of Daegu is a picturesque restaurant draped in ivy — home to some of the best samgyetang (Korean-style chicken soup) in Daegu. The best part is that the soup is MSG-free! Samgyetang is a traditional Korean chicken soup made with sweet rice and flavored with ginger. At Geumgok Samgyetang, the dish is served with some radish kimchi and marinated garlic.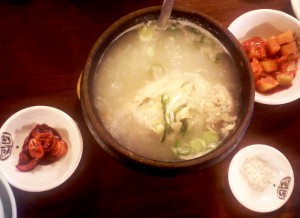 The portions are so generous that one bowl can easily be shared between two people. Thanks to the absence of MSG, the soup is not overly salty and the flavors are more balanced for an overall satisfyingly wholesome taste. The meal concludes with a small bowl of sweet and refreshing maeshil, or fermented plum juice, to aid digestion. It's the perfect ending to a hearty meal.