Review by Deborah Wood, ETA 2014-2015
City: Hongdae (홍대)
Directions: Hongdae Branch
1) From Hongdae Station. [~20 min] Take a left out of Exit 9. Take a right at the big street after Coffee Bean, and follow it for ~15 minutes. You will cross over one street with streetlights. A second will be in sight when you should take a right just after a CU. Honey Bowl is the 2nd building on the left.
2) From Hapjeong Station. [~10 min] Take exit 6, and continue straight along the left side of the road. After passing Chili & Sesame, take a left at the next road (독막로7길), and then the next right. Honey Bowl will be on your right.
3) From Sangsu Station. [~5 min] Take exit 1, and continue on the right side of the road. When you get to a parking lot in the middle of a perpendicular street, take a right. Cross the lot in order to take the first left. Honey Bowl is the 2nd building on your left.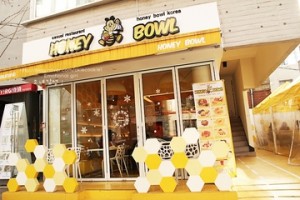 I visited the Hongdae Branch, but I believe the following is true of all three branches.
Although based on the first floor, the restaurant is built for an outdoor eating experience. Most of the glass "walls" appear to be windows that can be collapsed so that the restaurant becomes a kind of indoor terrace during the warmer months. As a result, the restaurant can be busy at peak brunch times in the summer, especially on weekends, but most times of day and year, you can find a table quickly and order whenever you are ready. In winter, the establishment is chilly, but several heaters are set up to keep the small space warm.
Brunch options are varied (including Eggs Benedict, French toast, combination plates, and even crepes), but they also offer some miscellaneous other dishes, such as sandwiches, pastas, a pasta sandwich, wings, salads, and even beer. The Honey Bowl Special is an omelette dish, but I never tried it. For dishes that come with syrup, you can choose from several types of syrup, including fruit flavors. Most dishes with syrup tended to run a little sweet for my taste, but not any more so than at other brunch places in Korea. For more savory flavors, I prefer the combination plates.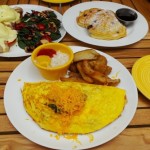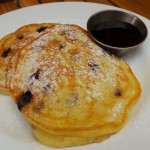 Not all staff members seem very comfortable in English, but since all items on the menu are written in English (and have Konglish names anyway), it's still very easy to order. I believe that even someone with no knowledge of Korean would still easily order and pay for their food.
For the full menu, see their website at http://blog.naver.com/jookkss.