Photos and Review by Josephine Reece, ETA '13-14
City: Daegu (대구)
Restaurant Name: Moga Cafe (카페 모가)
Food Served: Coffee, tea, cakes, seasonal menu
Restaurant address: 대구광역시 중구 대봉1동 40-17 / 40-17 Daebong 1-dong, Jung-gu, Daegu
Directions: Take the subway to Kyungpook Hospital Station and exit out of Exit 3. Turn around to face the nearest street corner and follow the corner to the left. Continue straight past several wedding and hanbok stores until you come to an alley with a prominent baby photography studio. If you reach the next main street you've gone too far. Turn into the alley and Moga is the next building after the photography studio.
Cost: ~3,000-6,000 won per drink. Cakes ~5,000 won per slice.
Payment: Cash or credit card
Moga Cafe is situated in a quiet corner of downtown Daegu where its converted hanok interior provides an atmosphere of rest and relaxation. Everything from the traditional buildings down to the cloth-bound menus combine a degree of beauty and homeyness. There is an outdoor courtyard that serves as the main entrance and two surrounding rooms that provide indoor seating. A third building in the hanok complex serves as a boutique selling unique women's clothing and accessories.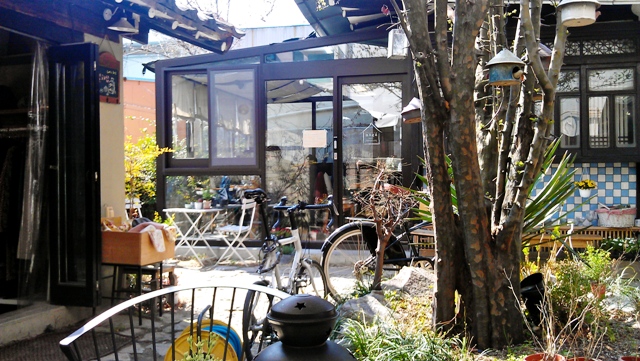 Despite the sense of spaciousness created by the courtyard, seating at Moga is limited. I came at about 1pm on a Saturday afternoon and was able to grab an outdoor table right away, but by 3pm there was a long line of people waiting for a seat. Some groups waited up to 20 minutes for a table to open up. I appreciated that, despite the abundance of customers, the staff in no way tried to hurry us on our way. In fact the staff members were overwhelmingly helpful and even helped us charge our computers in the prep-room.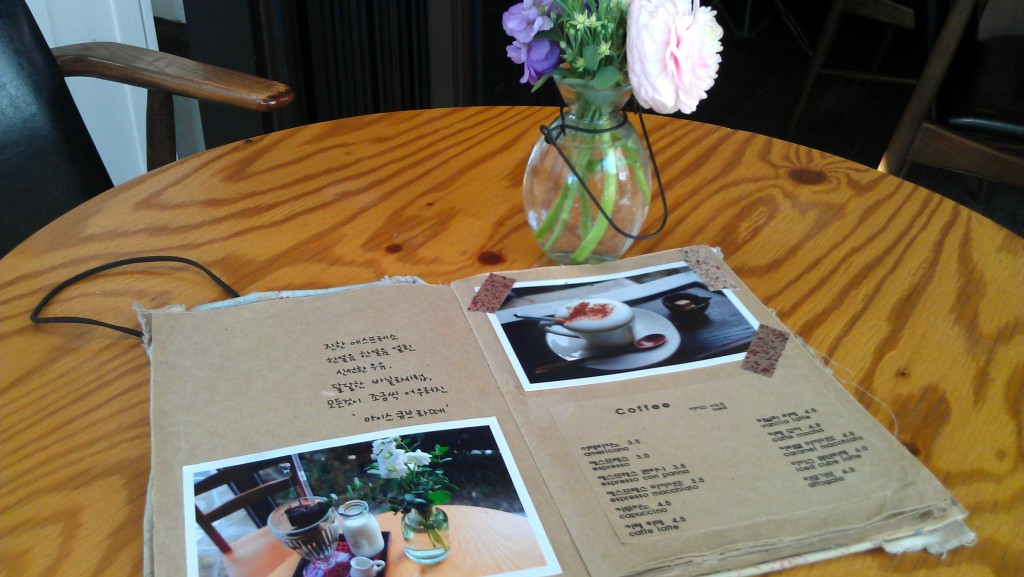 The attention to detail found in Moga's buildings and staff continues to its menu items, which are unique and tasty. For drinks, Moga offers a full range of coffee, espresso and tea. However, its specialty is the ice coffee latte: a set of frozen coffee-cubes, served in a tall glass and then smothered in fresh milk so that the coffee slowly melts as you drink. Their current seasonal drink offerings were adorable blueberry or strawberry lattes topped with whipped cream and served in large mason jars. Aside from their drink menu, Moga also serves a variety of delicious cakes, baked by the workers on-site. Their specialty is the carrot cake which includes the best cream cheese frosting I've tasted in Korea. Other cake offerings include red velvet, peach crumble and cheese cake.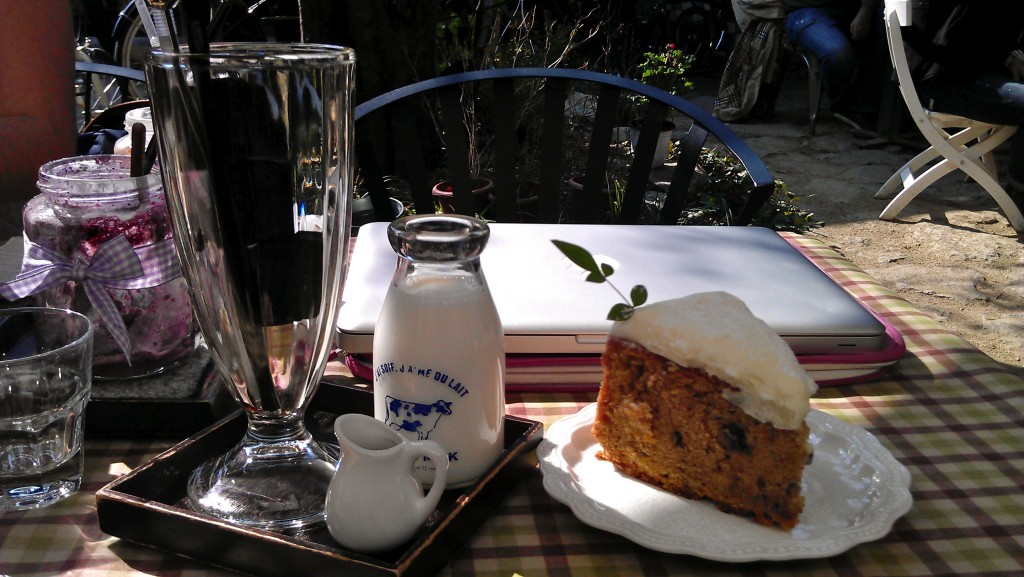 Moga's decor is simple but lovely. Big windows, small wooden tables and lightly cushioned chairs make the most of the courtyard's natural beauty. The relaxed atmosphere is perfect for chatting with friends or going on a date, but I would not recommend coming here to work. The tables are too small for more than a single laptop and outlets are few and far between. Still, I would highly recommend a visit to Moga for any cafe, coffee or cake lover – just make sure you go early enough to catch one of the coveted tables.