Review by Monica Heilman, ETA 2014-2015
City: Gimhae (김해)
Directions: On the Busan-Gimhae light rail, get off at Yeonji Park station and exit left, crossing a bridge and heading down stairs. At the bottom of the stairs, go straight until reaching traffic lights. You'll see Shabu Maxim up ahead, slightly to the right.
(For an alternative route with a sidewalk, exit right from the station and walk in the opposite direction of the stairs. At the intersection, turn right. The restaurant will be on your left.)


Shabu Maxim in Gimhae is a very new restaurant that just opened at the start of this year (2015). There is another branch in Haeundae, Busan. As it's still new, the facilities (including bathrooms) are in excellent condition and very clean. There's even a small play area for babies and toddlers. My favorite thing about the restaurant, besides the food itself, is the space, which is open and well-lit, with huge windows to let in natural light. I've gone twice, both times in a large group with a reservation and sat at large tables on the second floor.
The menu is your typical shabu shabu fare – raw beef that you cook in your own boiling broth, veggies and rice paper for making wraps, noodles as a second course, and a third course of juk/rice porridge with egg. If you haven't had shabu shabu yet, it's definitely a must-try and be prepared to eat A LOT.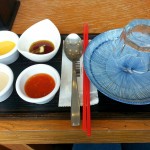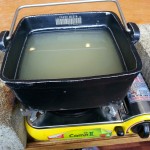 What's unique about Shabu Maxim is that they've nixed the Korean tradition of sharing dishes and given each person their own individual pot of broth. This means you also receive separate servings of noodles and rice porridge – so you can't rely on someone else even if you're getting full. During my second visit, our group also got dessert, which was a choice between ice cream, iced coffee or iced tea. While I opted for coffee, some of my coworkers still had room for ice cream, which was a single scoop of vanilla. Unfortunately, the iced coffee was far too sweet for my taste, but stick with the shabu shabu and you'll be more than satisfied.