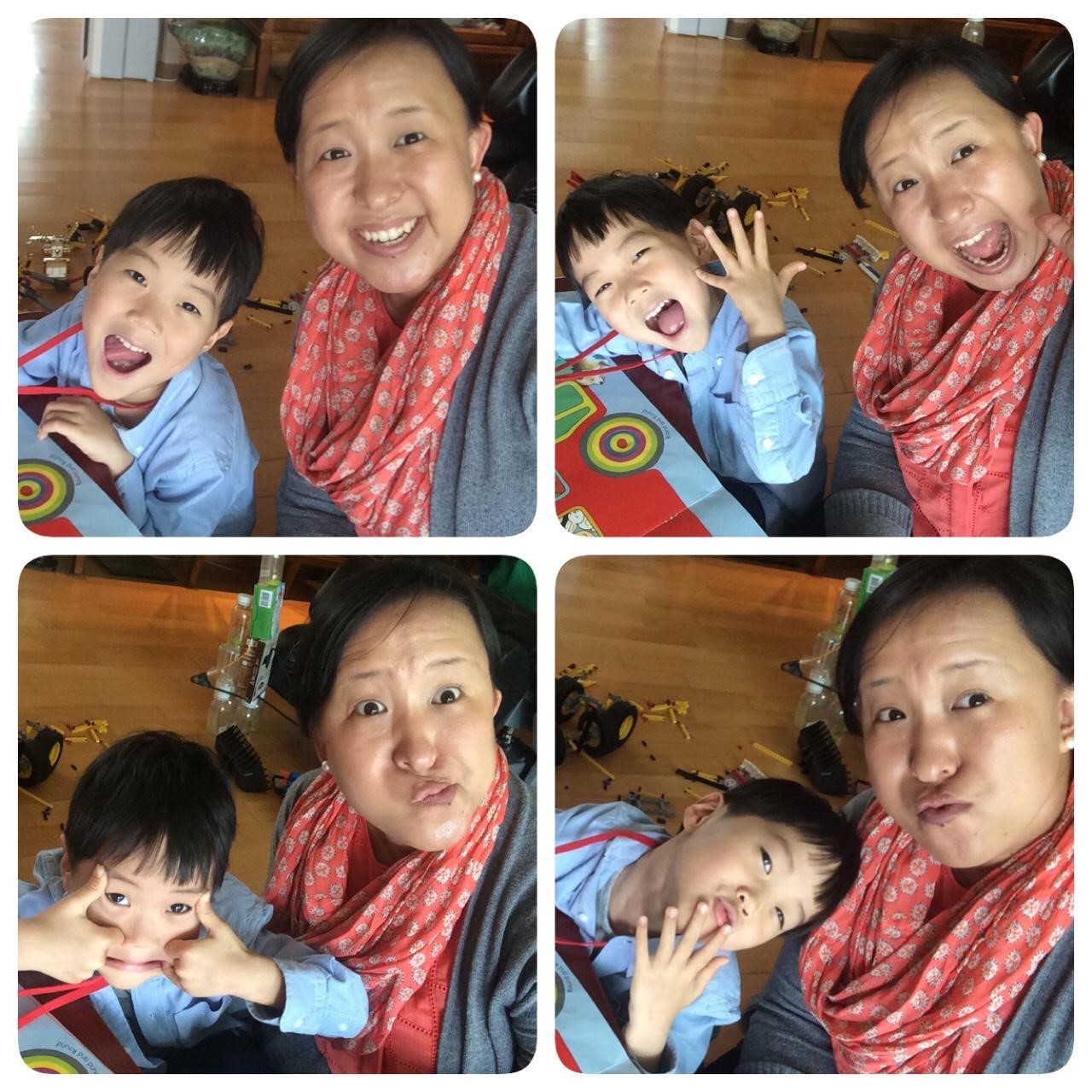 First-year ETA Grace Lee is the winner of our selfie contest! Grace took these selfies with her 6-year-old-cousin. We asked her a few questions:
What was it like meeting your 6-year-old cousin the first two times?
I didn't even know I had a second cousin until I was visiting my uncle's family on my dad's side in Busan. It had been two years since my family was able to see my cousin and her family. So I was really happy to meet my second cousin for the first time! His name is 영이. He was shy at first but once I sat down to ask him questions about his Legos and what he had made, he let me play with him. He beat me at car racing! I wanted to take photos with him and didn't realize he was making silly faces until a few photos afterwards so I played along. I really enjoyed meeting him and I won't have a chance to meet him again before I leave Korea but I'll definitely remember our first time meeting each other.
What are five words you would use to describe your cousin
Patient, silly, inquisitive, welcoming, and kind. I know sometimes little kids can be shy but he opened right up once he knew I wanted to play with him. We also read an English book together – "Wheels on the bus go round and round," and it was interactive where he had a "Say Pen," so when you pressed the pen onto the words on the book, it would narrate the story to you. He sat in my lap and we read and sang the words from the book together.
What has been your most precious moment with your cousin?
The most precious moment with him was having him sit in my lap reading an English book was really special to me. Also, just being able to be silly with him with the funny selfies was a lot of fun. He's a natural behind the camera and I definitely see him being a jokester as he grows older.
A poem by the Editor-in-Chief, inspired by these silly selfies:
That first conversation: what should the warm-up question be?
What's this book about? Shall we sing together and read?
As the magic "Say Pen" reads the words aloud
you imagine the wheels on the bus go 'round
One day stacking Lego blocks again might remind you
of this song you sang when you were young. You might
wonder where the tune came from. Where will you be
when the song pulls you back to these four pictures?
A different selfie-style pose before each screen flicker
As soon as you grow as tall as your laughter,
don't forget what these pictures have captured:
that first afternoon in Busan meeting Grace, your cousin
smiling after the toy car race you were happy to win.