Review by Rachel Lim, ETA '12-14
City: Gwangju (광주)
Restaurant Name: Song Jeong Tteokgalbi (송정 떡길비)
Restaurant address:  광주광역시 광산구 송정2동 826-3 / 826-3 Songjeong 2-dong, Gwangsan-gu, Gwangju
Directions: From Songjeong subway station, take Exit 1. Walk three blocks until you reach "Tteokgalbi Street" (clearly marked with a tourist sign) and take a right. Walk another block and a half and you'll see the restaurant on the right. Note: There are actually two branches of the same restaurant located about a block away from each other.
Food Served: Korean
Payment: Cash or credit card
Price: 11,000 for one serving of ddeokgalbi
Tteokgalbi is the forgotten sibling of other, more popular forms of Korean BBQ such as galbi (short ribs) or samgyupsal (pork belly). Originating from the city of Gwangju, widely considered to be one of the food havens of Korea, tteokgalbi usually features a combination of beef and pork, shaped into rectangular loaves and grilled over high heat. Think meat loaf, but far more delicious.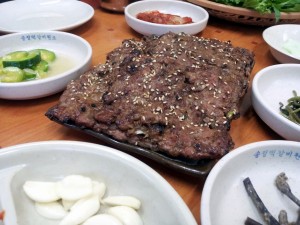 Song Jeong Tteokgalbi (송정 떡갈비), located in the city of Gwangju, is undoubtedly one of the best places to try this dish. Song Jeong is the flagship restaurant serving the local specialty on Gwangju's "Tteokgalbi Street," and has spawned imitations and spin-off branches all over Korea. There's nearly always a line outside the restaurant, a mish-mash of local patrons and visitors from all over Korea. Inside, the restaurant proudly shows off a wall of endless signatures from famous visitors, including a large, signed photo of Psy and the cast of 1발2일, a popular Korean travel show.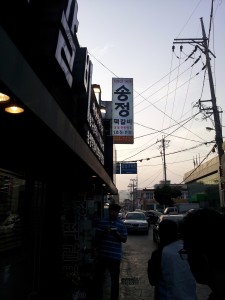 One serving of tteokgalbi is a very reasonable 11,000 won, though you should expect to pay a premium for local Korea-sourced beef, or hanwoo (한우). Another Song Jeong specialty is raw beef bibimbap (육회 비빔밥), though I personally decided to pass on that option. Your tteokgalbi is served steaming hot, with nearly a dozen different banchan side dishes. But the real star of the show is the meat, which can be eaten with rice, or wrapped in the large spread of lettuce and other ssam wraps provided.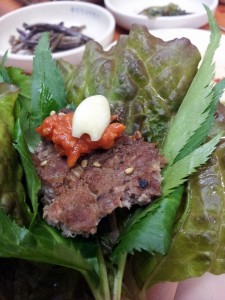 Atmosphere (Out of 5)
4- Typical Korean restaurant with mostly floor seating available. The restaurant was very loud both times I went, mainly because of the number of people squeezed in.
Service (Out of 5)
4- This restaurant is nearly always crowded, which means that the wait staff is very harried and sometimes slow to comply with requests.
Food (Out of 5)
5- The best tteokgalbi that I've ever eaten.