Reviewed by Rachel Lim ETA'12-13
City: Seoul (서울)
Restaurant name: Myeongdong Gyoja (명동 교자)
Restaurant address: 서울특별시 중구 명동10길 29 (명동2가)
Directions: Come out exit 3 from Myeongdong metro station and immediately take a left. The restaurant is across the street from M Plaza.
Food Served: Korean
Payment: Cash or credit card
Price: All entrees ₩8,000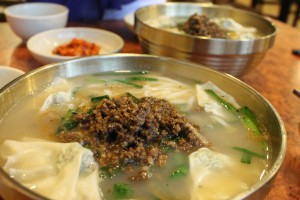 Kalguksu (칼국수) is one of my favorite Korean dishes, and Myeongdong Gyoja is the best place to sample it. Located in the Myeongdong shopping district, this noodle restaurant has been in operation for nearly four decades, spawning several branches across Seoul and copycat operations all over Korea. For the uninitiated, kalguksu (which literally means "knife noodle") features hand-cut noodles in a hearty chicken broth. Though kalguksu has many variations — seafood, vegetable, anchovy — Myeongdong Gyoja offers its version with dumplings and ground beef.
The Myeongdong experience isn't complete without generous helpings of the very spicy kimchi, whose garlic and hot pepper flavors complement the heartiness of the broth.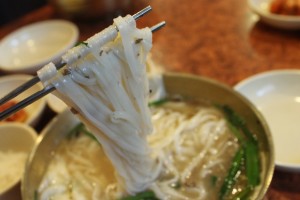 The restaurant also serves bibim guksu (비빔국수), a spicy noodle dish, and kohng guksu (콩국수), noodles in soybean soup. Both are delicious alternatives to kalguksu.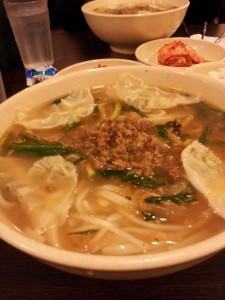 Atmosphere (Out of 5)
3- There is almost always a long line of people waiting to eat at this restaurant. Smaller parties usually have substantially shorter wait times. The restaurant is clean and well-maintained, and there's always an eclectic mix of foreign and Korean customers.
Service (Out of 5)
4- Service is quick and prompt; for refills, push the button on your table for immediate service. But expect efficiency, not warmth.
Food (Out of 5)
4- The kalguksu is a recurrent craving of mine. Other dishes — the mandu and kohng guksu, for example — are serviceable, not special.