Reviewed by Rachel Lim ETA'12-13
City: Daejeon (대전)
Restaurant name: Moru (모루)
Restaurant address: 대전 서구 둔산2동 1201 1층
Directions: The restaurant is about a 15 minute walk from Sichong metro station (시청역). Come out Exit 2 and walk about 500 meters. Take a left at the major intersection; there should be a Shinhan Bank and a Kookmin Bank. Walk about two blocks, and you'll see the restaurant behind a SK gas station.
Food Served: Brunch
Payment: Cash or credit card
Price: Dishes range from ₩10,000-₩15,000.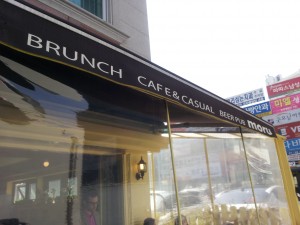 Daejeon's best brunch place features a cozy interior with top-notch, Western-style brunch. The extensive menu offers pancakes, omelets, eggs benedict and a quality drip coffee. Portions are generous and attractively plated, and entrees are well-proportioned with creatives flourishes that exceeded my expectations. The banana pancakes, for example, came with a side dish of vanilla ice cream covered with toasted honey almonds. One banana, perfectly caramelized, was still in the peel. Fresh banana slices were tucked under a pancake for a warm, textured surprise.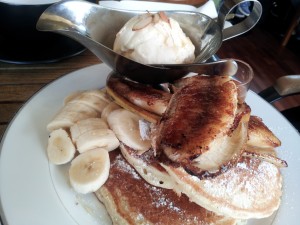 The hash brown egg benedicts were likewise delicious. The hollandaise sauce was nicely seasoned, and the contrast between crunchy hash brown and tender egg made each layered bite worth savoring. The drinks menu offered drip coffee as well as specialty juices and ades, which were served in small jars for a whimsical touch. Overall, Moru was a quality dining experience that fulfilled my craving for pancakes and English muffins.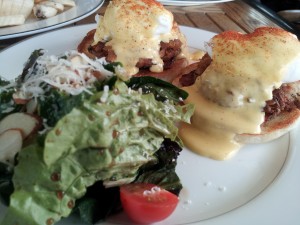 Atmosphere (Out of 5)
3- The restaurant's interior isn't particularly memorable, and a lack of space means that bigger parties will likely have to split up.
Service (Out of 5)
4- The wait staff was friendly and approachable. Expect to wait longer than usual for your food on weekends.
Food (Out of 5)
4- The two dishes I tried were delicious and left me completely satisfied.